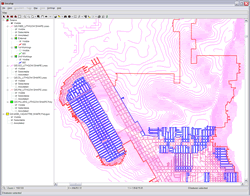 DocuMap GIS viewer and query tool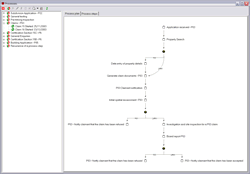 DocuMap workflow modeling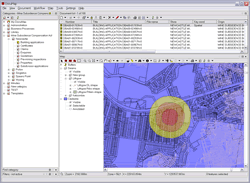 DocuMap with buffer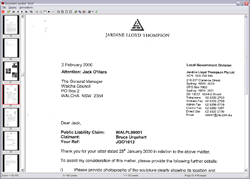 Viewing a scanned document found in DocuMap
project name
Mine Subsidence Board - DocuMap
the aim
The Mine Subsidence Board (MSB) realised that it needed to replace its existing Information Management System (IMS) with a more modern, reliable and efficient system. Spatial Intelligence is part of a consortium that won a tender to supply and implement the new IMS. Other members of the consortium include NGIS, Pellion and Alpha West.
The new IMS included Office software, GIS, document/records management and property management software. The new system needed to operate in WAN environment and be easy to use, robust, timely and efficient.
the solution
A solution is based on the following components:
Microsoft Windows
Microsoft Office
Oracle 9i
ESRI ArcGIS
DocuMap
All of the IMS data is stored in Oracle 9i in a fully replicated system to meet the requirements of the distributed environment. As most of the information that the MSB deals with has a spatial component ESRI's ArcGIS is central to he solution.
DocuMap is a core component of the solution and provides the following for the IMS:
GIS viewing and querying - A core tool required by most of the MSB personnel is the GIS viewing and querying tool in DocuMap. This is used to view and query the MSB's large GIS datasets
Workflow - DocuMaps' workflow is used by DocuMap and other IMS systems to manage the MSB's business processes
Microsoft Office integration
Integration with the property management system
Tags
more details
For more details please use our 'Contact us' page or email us at info@spatialintelligence.com.au